This incredible collaborative drawing will be part of the LUSO-American Surrealism of the 21st Century exhibition open now at the Cullis Wade Depot Gallery at Mississippi State University. I am very excited to have contributed to this project. I really think it is a brilliant concept, the outcome is incredible and it was a real joy to work on.
The above drawing is part of The Antipodes Project, started by Washington DC artist Ben Tolman and continued by Joe MacGown. Artists who contributed to this large piece are Joe A. MacGown, Ben Tolman, Joseph H. MacGown, Julianne MacGown, Chloe Marsters, Marnie Pitts (me), Otto Rapp, Paulo Cunha, Pizo Meyer, Ryan Thornburg, Zachary Nolin, Marcel Bakker, Deborah Valentine, and Alex Bostic. This drawing is one of four large pieces made for this collaborative endeavor. More information on the group page https://www.facebook.com/groups/417925438379842/?fref=ts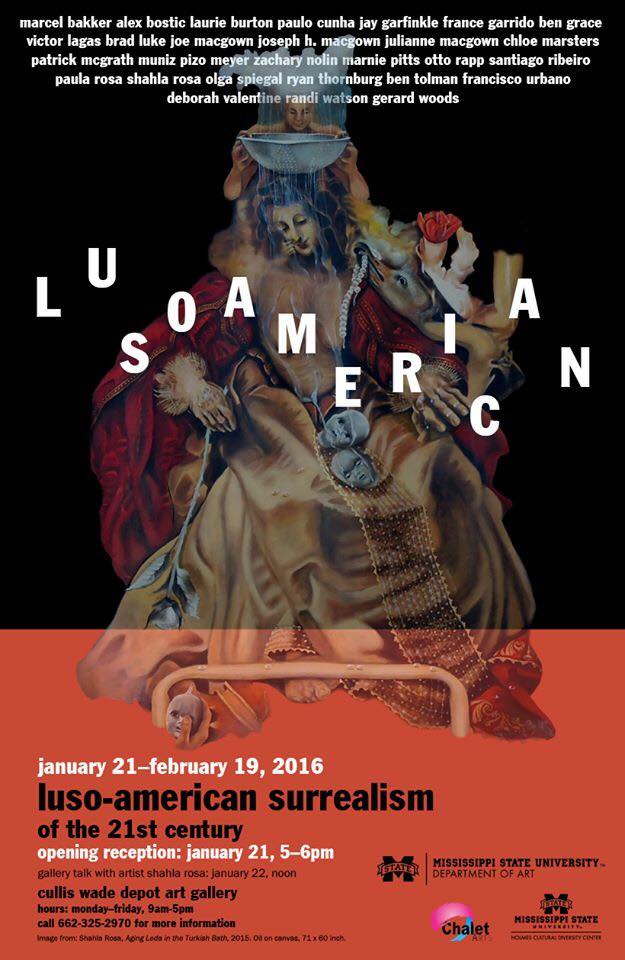 The primary members of the group exhibiting at MSU will include six American artists (Jay Garfinkle, France Garrido, Joe A. MacGown, K.D. Matheson, Patrick McGrath Muniz, Shahla Rosa, and Olga Spiegel) and four Portuguese artists ( Victor Lages, Santiago Ribeiro, Paula Rosa, and Francisco Urbano), all of who regularly exhibit their artwork internationally. Additionally, several local Mississippi artists will be exhibiting including Laurie Burton, Brad Luke, Joseph MacGown, Randi Watson, Ben Grace, and Gerard Woods.
Gallery Director: Lori Neuenfeldt
Matthew Gordon: Exhibition Coordinator
Joe MacGown: LUSO – American Surreal Group Representative